MS SQL upozorenje "average wait time (ms) too high"
Na šta treba obratiti pažnju kada se ovo upozorenje javi :
0. Proveriti "potrošnju" za RAM i CPU, ako su u okviru granica, nastaviti dalje 🙂
1. Koliko često se javlja
2. Koja je prosečna vrednost čekanja
3. Koliki je tempdb u odnosu na veličinu baze (treba da je oko 20%)
Veličina baze : povezati se (domenski) kroz MS SQL SMS na DB server, desni klik na bazu/Properties/General
Veličina tempdb baze (ona se nalazi pod "System Databases"):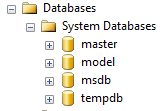 Desni klik na "tempdb"/Properties/General.
4. Broj tempdb fajlova (treba da je jednak broju procesora na DB serveru)
Desni klik na "tempdb"/Properties/Files.
5. Ensure the "optmize for ad-hoc workloads" settings is enabled also.
6. Proveriti da li su "Locks" u pitanju (dole slika sa SCOM-a). ako jesu, to je posao za programere…..



Locks are held on SQL Server resources, such as rows read or modified during a transaction, to prevent concurrent use of resources by different transactions.
Dobri linkovi : link1