Dakle, sada je moja klijentska mašina WIN 7 (potrebe posla).
Evo koji su pandani sa CentOS 6U7 na WIN 7
BlueFish HTML editor postoji i za WIN 7
SmartGit
SmartGit editor postoji i za WIN 7
Link ka dokumentaciji.
The various Push commands allow you to push (i.e. send) your local commits to one or more remote repositories.
Kako klijent povezati sa serverom (privatni GIT server u lokalnoj mreži)?
Generisati ključeve na lokalnoj mašini (može se koristiti PuttyGen), bez lozinke, jednostavnosti radi (pošto je lokalna mreža). Ključeve sačuvati na lokalnoj mašini.
After you have done a git clone, you have a copy of the complete repository.
Make some changes to the local version of the repository, then git add and git commit the changes to the local repository.
git push to publish the changes ("commits") to the remote repository
Periodically git pull to retrieve any new updates from the remote repository.
ThunderBird
ThunderBird postoji i za WIN 7, i preseljenje na novu mašinu je vrlo jednostavno (videti moj raniji post)
Umesto Apache-a koristi se IIS
IIS (Internet Information Services)
To je WIN 7 zamena za Apache-a.
1. IIS je deo WIN / OS-a, tako da se instalira kroz : Control Panle/Programs/Turn Windows features on or off :



2. Sada IIS treba konfigurisati, tj. uperiti na lokalnu WEB stranu. To se radi kroz : My Computer/desni klik/Manage/Services and Applications :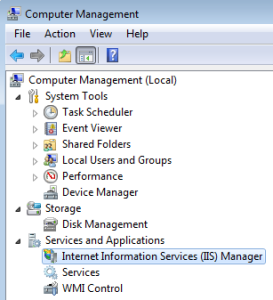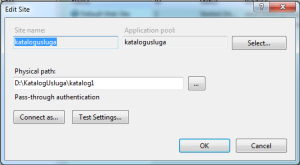 Kada se sve popuni u formularu, treba proveriti sajt ("Browse") i onda ga pokrenuti ("Start") :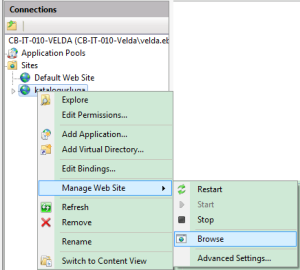 Ako se pri testiranju konekcije javi greška vezana za autorizaciju, videti link. Takva greška se uglavnom može ignorisati bez problema.
3. Onda se lokalna prezentacija poziva kako je napisano u formularu (ja sam stavila IP adresu mog računara, znači sa njom).
4. Ako je potrebno pokrenuti (instalirati) ISO fajl, on se lokalno mount-uje korišćenjem DaemonTools proramčića (link)
5. Za crtanje grafika toka za servise/procese/funkcije na CentOS-u sam koristila yEd, a na WIN 7 nameravam da koristim Visio.
Pošto imam crteže u yEd, instaliraću I njega na Win 7 (može!!! link), da bih mogla da ih otvaram I menjam.