Markdown language i specijalni simboli
U RedMine Wiki je prilično komplikovano staviti specijalne simbole.
Ne mogu se staviti kao :smiley: jer to ne prihvata.
Ne može kao Unicode (U+xyz) jer ni to ne prihvata.
Jedini način je ovaj :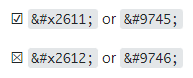 I da ; je NEOPHODAN posle, inače ništa
Link ka karakterima, uzeti broj, i dodati črčkice ispred i ; iza.