Analiza logova sa WIN mašina, na WIN 7 mašini – za to mi treba log parser.
Lizard Log parser je odličan, ali daje samo free trial na 30 dana, a to neverovatno brzo prođe 😉
Ja koristim kombinaciju dva log parsera, od kojih jedan (Log Parser 2.2) daje engine, a drugi (Log Parser Studio) daje GUI front end.
Log Parser 2.2 je Microsoftov free proizvod – link, ali je on striktno CLI.
Log Parser Studio je GUI utility koji ga koristi (link), I koj dolazi sa pristojnim brojem predefinisanih upita, raspoređenih po aplikacijama (sa osrtom na MS, naravno).
Evo kako izgleda :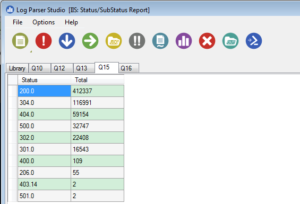 Ovde može da se nađe malo uputstvo za korišćenje istog.
Odličan spisak upita koji se mogu kreirati pod log parserom : link1 i link2 :

A kao referenca link ka spisku HTTP kodova.