IIS (Internet Information Services) je deo WIN operativnog sistema (i serverskog i desktop), i kao takav se instalira kroz WIN komponente.
IIS ima module, pa se oni instaliraju/aktiviraju kroz Control panel/turn WIN features on/off.
IIS supports the following protocols: FTP, FTPS, SMTP, NNTP, HTTP/HTTPS.
Vrste IIS modula :
1. Native
2. Managed – pisani u .NET-u
IIS služi za prikaz ASP (starija verzija) i/ili ASP .NET (novija verzija, sa boljom bezbednošću) stranica.
IIS CGI modul omogućava korišćenje za stranice pisane u : Python, PHP, Pearl
Pregled modula :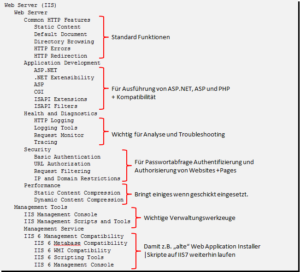 Detaljni opis za pojedinačne module može se naći ovde.
***
Verzija WIN OS diktira verziju IIS-a (upodaci uzeti odavde):
Windows NT 4 Server – Microsoft-IIS/4.0 1998 (als Teil des NT 4 Option Packs)
Windows Server 2000 – Microsoft-IIS/5.0 2000
Windows XP – Microsoft-IIS/5.1 2001
Windows Server 2003 – Microsoft-IIS/6.0 2003
Windows Vista – Microsoft-IIS/7.0 2006
Windows Server 2008 – Microsoft-IIS/7.0 2008
Windows 7 – Microsoft-IIS/7.5 2009
Windows Server 2008 R2 Microsoft-IIS/7.5 2009
IIS 7 nije automatski kompatibilan sa IIS 6, ali se to može dodati kroz module.
***
IIS po default-u svoje fajlove stavlja na lokaciju : C:\inetpub\wwwroot
***
Neki osnovni pojmovi :
An application pool is a separate worker space that lets your website run separately from others.
In IIS 7 and above – a site contains one or more applications, an application contains one or more virtual directories, and a virtual directory maps to a physical directory on a computer.
The default document is the web page that loads when the user types just your domain name into the browser (usually index.html for a static site or default.aspx for web forms).
Connection strings define database connections. Each type of connection string is determined by the database your website is connecting to. You can set the connection string in IIS or in the application. Most applications set the connection string in the application code.
ASP – active server pages
ISAPI – Internet Server Application Program Interface
Dobar link.
Postavljanje Website-a na IIS-u – link.
Više sajtova na jednoj mašini : kako uraditi je dato u mom starom postu.
Instalacija IIS 7 – link1 i link2.
Objašnjenja najvažnijih pojmova – link.