1. Kako ubaciti da imate font "Times New Roman" koji je zahtevani font za veliki broj dokumenata :
# wget http://www.my-guides.net/en/images/stories/fedora12/msttcore-fonts-2.0-3.noarch.rpm
Instalirati paket, i restartovati LibreOffice (najbolje i celu mašinu). Link.
2. Kako namestiti da od neke stranice na dalje (a da nije prva strana!), bude drugačija orjentacija strana (portrait/landscape) :
a. Insert a manual break, select the page break button, and on the style pull down menu just below the button choose landscape
b. All following pages will be in landscape orientation
c. When you want to switch back insert a manual break, select the page break button, and on the style pull down menu choose default, all following pages will be in default (portrait) orientation. Repeat anytime you want to change to a new orientation. Link.
*****
E ali je problem u tome što se ovo gore navedeno MORA uskladiti sa stavkama "Format/Page/Organizer tab/Name/Next Style", gde je "Default Style" običan uspravan A4, a "Converted 2" ili "Landscape" ili kako ga već nazovete je položeni A4.
Odličan link.
3. Kako ubaciti sadržaj/indeks stavki u dokument
a. Pod Tools/Outline Numbering, podesiti koji je format za Paragraph Style (npr Heading 1). Ako sadržaj treba da ima više nivoa (podtema), podesiti i druge nivoe.
b. Podesiti sve naslove budu "Heading 1" (obeležiti, pa pod stavkom levo polje od fonta), podnaslove da budu "Heading 2", još niži nivo podnaslova da bude "Heading 3", etc.
c. Na mestu gde želite da bude Sadržaj, uradite : "Insert/"Indexes and Tables" i opet "Indexes and Tables" (obavezno navesti naslov kakav želite da vaš sadržaj ima, ako ne, ostaviti taj deo prazan).
Ako sadržaj ima više nivoa, obavezno taj broj nivoa mora da se stavi pod stavkom "Evaluate up to level", inače se niži nivoi jednostavno neće videti.
d. Ako i dalje kucate u dokument, kliknuti unutar indeksa/sadržaja, desni klik na miša i stavka "Update Index/Table".
4. Kako da prva strana ima drugačiji Header/Footer od ostalih strana
OBAVEZNO prvu stranu definisati kao "Title page", dok ste na njoj, pod Format/Page :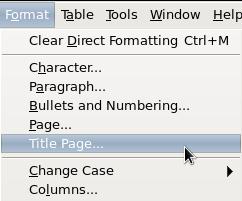 U ovom slučaju (kada je samo prva strana različita od onih koje slede) ne mora se ubacivati "Page Break", već samo promeniti npr orjentacija prve strane u npr "Landscape".
5. Kako dodati još neke boje u raspoloživu paletu
Ići na stavku "Tools/Options/Colors" :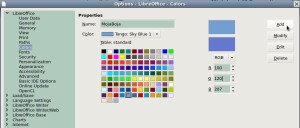 1. Odabrati stavku "Colors" sa leve strane.
2. Odabrati neku boju sličnu željenoj
3. Uneti novo ime za boju
4. Izmeniti RGB parametre u željene
5. Kliknuti na taster "Add" sa desne strane
Na ovom linku se mogu videti razne boje i nijanse, sa pripadajućim RGB šiframa.
Odličan link.