Šta ako neko iz vaše mreže hoće da koristi BlackBerry (u daljem tekstu BB ;-)) uređaj?
I šta uopšte BB uređaj/telefon radi?
Pa BB u stvari obaveštava svog korisnika svaki put kad dobije mail, i naravno taj mail može da se pročita, na njega da se odgovori, itd. Naravno to sve zajedno uopšte nije TAKO prosto kao što zvuči (nikad nije, zar ne?).
Da bi stvari tako radile kako je potrebno za BB uređaj, potrebno je da BB serveri kominiciraju sa vašim lokalnim mail serverom, sa koga vuku korisničku poštu, i preko koga je šalju.
Takođe BB uređaj treba preko mobilne mreže takođe da prostupa vašem mail serveru, kao i BB serverima.
Pa postoje dve opcije za realizaciju cele ove priče :
1. Celu tu skalameriju pustiti na vaš lokalni mail server – ne naročito sigurna, ili preporučljiva opcija
2. Izdvojiti jedan mail server (može i neka stara mašina, relativno slaba, ako se vrti pod Linux-om (a na čemu bi brugom???) – dovoljan je i 1G RAM-a i neki mali disk) i žrtvovati ga, a u slučaju security problema, to je nešto što se može relativno bezbolno rekonfigurisati, provremeno ugasiti i sl.
Jasno je šta je bolje uzeti, zar ne?
Ako se uzme konfiguracija broj 2, onda to izgleda ovako nekako :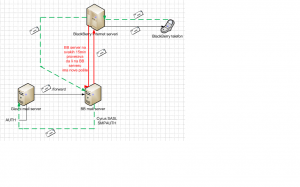 Šta se konfiguriše i kako na kom od servera, biće u sledećim postovima.