WIN 2003 Server + IIS V 6.0 greška 2
IIS stane, a u sistemskom logu se javlja ova greška :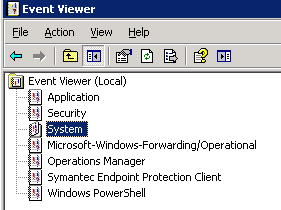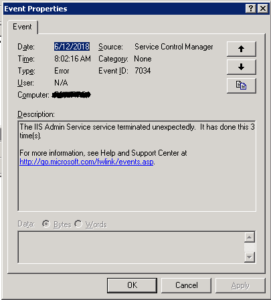 Restart IIS servisa rešava problem, ali nije u tome poenta.
Microsoft sajt o ovoj grešci.
Mogući uzroci :
1. Anti Virus softver skenira IIS kompresovan folder (link)
Kako proveriti kompresovani folder, odnosno da li IIS koristi kompresiju :
a) Click Start, point to Programs, point to Administrative Tools, and then click Internet Information Services (IIS) Manager.
b) In IIS Manager, right-click the Web Sites folder, and then click Properties. Click the Service tab.
c) Under HTTP Compression, make sure that Compress static files is selected, and then locate the path to the temporary directory.
Ako postoji kompresija, videti koji je folder u pitanju, i isključiti ga iz AV skeniranja.
2. AV softver koji prijavljuje lažni Code Red worm (link).
Proveriti logove AV-a, i verziju. Kod mene ovo nije slučaj.
3. Recovery action (link), ovo me je zbunilo, nije mi jasno kakve veze ima, ali sam voljna da probam.
Kako videti koji je recovery action za IIS :
a) Open the Services snap-in by clicking the Start button, Control Panel, and Administrative Tools, then double-clicking Services.
b) In the details pane of the Services snap-in, right-click on the name of the service you want to stop and select Properties.
c) Click the Recovery tab and specify the recovery actions for the service (for example, restart the service or the computer, take no action, or run a program).
Kod mene je ovako :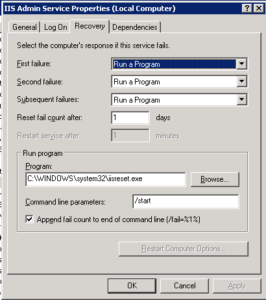 Pa sam umesto "/start" stavila "/restart". Videćemo kako će to da ide.