Logovi za zakazane zadatke
Povezano sa predhodnim postom.
Pošto sam postavila "sheduled tasks" hoću da po0gledam logove i da proverim da li su se izvršili.
PS Logovi u sebi sadrže tzv "exit codes", pa evo šta neki od njih znače :
0 – success
0x3 – error path not found
259 – still active
Lista za neke Microsoft izlazne kodove : link.
WIN 2003
Prva opcija (kod mene nije radilo) :
In Windows Server 2003, the Source of scheduled task related events is Schedule. You can find these events by filtering the system event log.
1. Open event log.
2. Right click on System -> Properties -> Filter tab -> Select "Schedule" in the Event source field.
3. Click OK button and the scheduled task related events will be listed.
Druga opcija (radilo kod mene) :
Običan tekst fajl : %SystemRoot%\Tasks\SchedLgU.Txt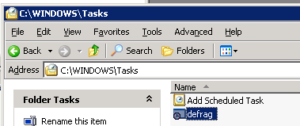 Problem je što se taj fajl NE VIDI KROZ Win Explorer (iako je namešteno da se vide "Hidden files")!!!!!
Zato je potrebno uraditi ovo (Advanced/View Log):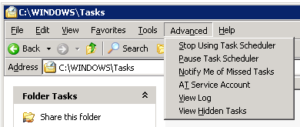 WIN 2012
Ne funkcioniše ništa od onoga navedenog za Win 2003.
Prva opcija (radilo je za mene) :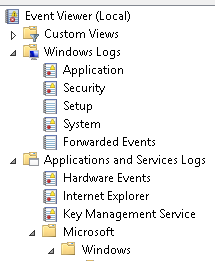 Link.
Open Event Viewer and go to: Event Viewer (Local) / Applications and Services Logs / Microsoft / Windows / TaskScheduler / Operational
Ne vredi tražiti po mom nalogu (pod kojim je zadatak išao), jer ga tako ne nalazi, nego po vremenu kad je trbalo da se okine, i tu čitati sve logove redom. Uzdah.
Druga opcija (radilo za mene, mnogo bolja!!!)
Otvoriti Task Sheduler, naći svoj kreirani task, desni klik/Properties :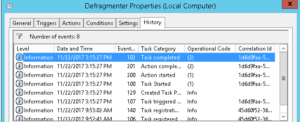 I pod tabom "History" se vide logovi vezani za taj zadatak!!!
Dobar link.