Excel 2016 i MS SQL server
Nisam ni znala da uopšte postoji mogućnost da se Excel poveže na MS SQL server i bazu na njemu!
Pošto nešto radimo sa analitičkim i reports alatima na MS SQL-u, i tu imamo test, onda se na to i kačim :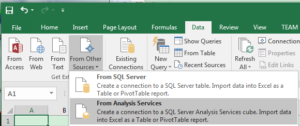 Dobar link.
Paziti, ako se nad bazom nešto dešava, pojaviće se baza sa svojim imenom, i to isto još jednom, samo sa nekim dugačkim repom u imenu. Tu drugu ignorisati (to je temp baza za obradu, i nestaće kasnije).
Iz nepoznatih razloga, u Excel-u postoji i drugi način pristupa takvim podacima, ali koj NE funkcioniše, i to je :