Gašenje vise WIN mašina odjednom
Postoji štos da se gasi vise Windows mašina odjednom.
Iz komandne linije kucati :


Automatski se pojavljuje novi prozor :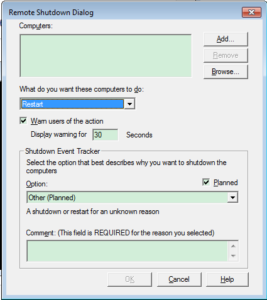 Tu se unose imena ili IP adrese mašina koje se gase/restartuju.
Kredencijali koji se pri tom koriste su oni sa kojima je korisnik logovan na mašinu sa koje radi. Ti kredencijali (domenski) treba da imaju pravo da urade to gašenje/restart na datim mašinama.
Logovanje događaja : "In the "Shutdown Event Tracker" section, choose the option in the list of values that you want the Event Log to show when the computer shuts down and enter a comment."
Dobar link.