PHP i HTML stranice smotane u jednu
U mom (već legendarnom) katalogu ima i HTML i PHP stranica, i potrebno ih je sve prikazati na jednoj strani.
Preferabilno u TXT formatu.
E TXT za sada ne ide, ali prikaz svih stranica, jedne za drugom, onako kako se i inače prilazuju (znači tabele i sl.), to može, i to ovako :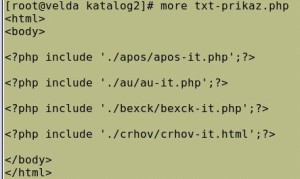 Paziti, pošto PHP skripta mora da ima tačno određena prava :
-rw-r–r– 1 root root 191 Jan 27 12:31 txt-prikaz.php
Znači, ni slučajno da bude izvršna!