Pristup WIN 7 deljenom folderu sa CentOS6U6 i OBRNUTO
Početne napomene : Samba je 3.6 verzija, Centos je 6U6, WIN je 7
CentOS—–>WIN
Dakle koleginica je podelila folder na svojoj mašini da bih ja odatle nešto prevukla na moju mašinu.
Evo kako sa mog CentOS 6 mogu da (privremeno) mount-ujem njen deljeni folder :
1. Otvoriti pod GUI-em neki File Browser
2. Otići na "File" / "Connect to Server"
3. Popuniti novi prozor koji se bude pojavio :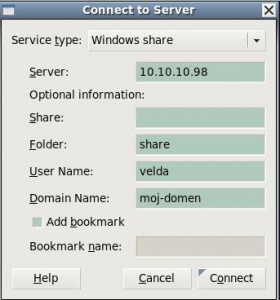 Napomena 1 :Paziti pošto ovo može malo da potraje, dakle strpljenje!
Napomena 2 : Podatak o folderu MORA da se navede, dakle ako je lokacija direktno pod IP adresom, ne može se otvarati cela, nego samo folder po folder (iz potpuno misterioznih razloga!!!)
Pošto je kod nas autentifikacija nad MS WIN AD, to je u pitanju moj user nad domenom, i AD domen.
Ovako podignut share će biti aktivan dok se ručno ne unmount-uje ili se CentOS ne resetuje.
***********************
CentOS<-----WIN
E a sada obrnuto, kako da WIN 7 mašina vidi neki folder na CentOS 6.
Šta treba uraditi na CentOS mašini :
Prvo treba imati Sambu.
Ako hoćete autorizaciju nad folderom :
# smbpasswd -a velda
Podesiti konfiguracioni fajl : /etc/samba/smb.conf :
[global]
workgroup = domen-definisan-na-AD
realm = realm-definisan-na-AD
password server = moj.AD.server
log level = 2
log file = /var/log/samba/log.%m
template shell = /bin/bash
winbind use default domain = Yes
winbind refresh tickets = Yes
winbind offline logon = Yes
idmap config * : range = 10000-50000
idmap config * : backend = tdb
[COManager]
path = /home/velda/Install/COM
read only = no
browsable = yes
guest ok = yes
public = yes
Obavezno posle podešavanja smb.passwd proveriti sintaksu sa # testparm komandom.
Sa WIN 7 mašine uraditi sledeće :
Start, u liniji upisati run, u novom prozoru upisati \\10.10.10.141, što će napraviti na Desktop-u shortcut ka toj IP adresi. Kada se na to klikne, tražiće user i pass, tu upisati kao nalog velda i dodeljenu lozinku. I otvoriće se deljeni folder!
Neke crtice za Samba konfiguracioni fajl :
guest ok = yes
— Guest accounts are OK to use the share; aka: no passwords.
guest only = yes
— Only guests may use the share.
writable = yes
— The share will allow files to be written to it.
read only = yes
— Files cannot be written to the share, just read.
force user = username
— Act as this user when accessing the share, even if a different user/pass is provided.
force group = groupname
— Act as this usergroup when accessing the share. username = username, username2, @groupname
— If the password matches one of these users, the share can be accessed.
valid users = username, username2, @groupname
— Like above, but requires users to enter their username.