Dva monitora na CentOS 6U6
Ja imam dva monitora na mašini, ALI, mašina mi je Dell, a jedan od monitora HP, i čini mi se da se baš nešto i ne slažu međusobno.
Dakle kada resetujem mašinu, moj glavni monitor, HP, kuka kako nema signal, tj ne uspeva da se opasulji (iako su sve veze OK, i lepo prikazuje kako se sistem podiže, sve do trenutka kada X server, Gnome, počinje da se podiže), i imam samo mali sporedni monitor (Dell), na kome naravno nemam pristup administrativnim GUI komandama, koje su sve na HP-u, koji ne radi.
Ali srećom imam pristup komandnoj liniji.
I uspela sam da nađem foru, kako da "opasuljim" HP-a i to iz komandne linije.
Pošto je program koji koristim za upravljanje monitorima XRandR (dobar link), prvo potražim kako je on nazvao moje monitore :
# xrandr -q
Screen 0: minimum 320 x 200, current 2960 x 1050, maximum 16384 x 16384
DisplayPort-0 connected 1680×1050+0+0 (normal left inverted right x axis y axis) 473mm x 296mm
1680×1050 60.0*+
1600×1200 60.0
1280×1024 60.0
1440×900 59.9
1280×960 60.0
1024×768 60.0
800×600 60.3
640×480 60.0
720×400 70.1
DVI-0 connected 1280×1024+1680+26 (normal left inverted right x axis y axis) 338mm x 270mm
1280×1024 60.0*+ 75.0
1152×864 75.0
1024×768 75.1 60.0
800×600 75.0 60.3
640×480 75.0 60.0
720×400 70.1
I onda podesim moj "neposlušni" HP monitor :
# xrandr –output DisplayPort-0 –mode 1680×1050
(Paziti to su dva uzastopna minusa ispred output i ispred mode!!!)
Napomena : ovo važi samo do reseta!!!
Napomena : xrandr is an official configuration utility to the RandR X Window System extension. It can be used to set the size, orientation or reflection of the outputs for a screen.
Kako ovo staviti da bude permanentno :
Napraviti fajl : /home/velda/hp-monitor.sh (777 root root) :
#!/bin/bash
xrandr –output DisplayPort-0 –mode 1680×1050
I onda iz komandne linije prizvati gnome-session-properties :
# gnome-session-properties
(Može i kroz GUI : System/Preferences/Startup applications)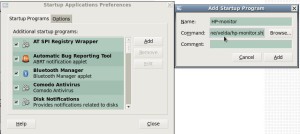 Konfiguracioni fajl za moj problematični monitor :
/etc/X11/xorg.conf.d/10-DisplayPort-0.conf
Ako sve to ne deluje, skruptu staviti u /etc/init.d, a u /etc/rc.d/rc5.d staviti soft link ka skripti :
# ln -s /etc/init.d/hp-monitor.sh /etc/rc.d/rc5.d/S99hp-monitor
# ll|grep hp
lrwxrwxrwx 1 root root 25 Oct 28 15:11 S99hp-monitor -> /etc/init.d/hp-monitor.sh
S – start script
99 – na poslednjem mestu
Dobar link za definicije RunLevel-a.
Dobar link za definicije i RunLevel-a i šta brojevi posle slova S i K znače.
Dobar link.