Grčka, ostrvo Krf, mesto Dassia
Krf je svakako ostrvo gde ima šta da se vidi, ali to je za oko 2-3 dana, više ne. Dakle posle toga vam treba ugodan smeštaj i lepo more.
Mi smo bili u mestu Dassia, oko 15km od grada Krfa. Smeštaj je bio odličan, u studijima (napomena : bez TV-a i Wi-Fi-ja) u vili Ildi. Postoji bazen u vili koji je zbilja sjajan :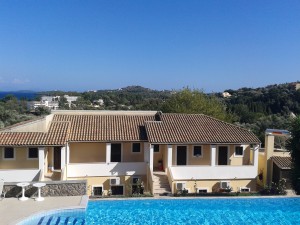 U blizini je i vidikovac, odakle se lepo vidi ostrvo i okolina. Apsolutno vredi otići, popiti kafu, pojesti sladoled….. Malo ga je teže naći, jer nije baš nešto obeleženo, ali vredi.
Naša lokalna turistička vodilica 😉 je bila odlična, i lepo nas je provela po lokalnim znamenitostima.
Znači deo koji je bio do agencije dobija ocenu 5.
ALI
Dassia nema nigde prostora za šetnju, pošto se nalazi na magistralnoim putu. Sve radnje su uz put, a trotoar je uglavnom prilično uzak. Definitivno nije za večernju opuštajuću šetnju. Može jednom da se prođe, i to je to.
Takođe morate preći magistralni put da bi došli do plaže, a nema NI semafora NI pešačkog prelaza!!! A Grci voze ko ludi, i uopšte ih nije briga što vi hoćete preko ulice…..
Ulice koje vode do plaže su prilično prljave (otpaci ježe okolo, ne baš preterano, ali za našeg boravka se niko ni jednom nije potrudio da to počisti).
Cene u samoposlugama su 20-30% veće nego na Tasosu. Prodavci su vrlo ljubazni.
Dassia kao mesto za odmor ima ocenu 3-.
More je bilo čisto i prijatno, sem zadnja dva dana, kada je zbilja bilo prljavo (ne morska trava ili slično, već prljavština).
Kafići uz obalu samo što vazduh za disanje ne naplaćuju.
Ležaljke se OBAVEZNO plaćaju, od 2EUR do 8EUR, kako gde.
Cene su boli glava, uši otpadaju – jedna kugla sladoleda (prilično mala) je 2EUR!
Uglavnom svi kafići imaju WiFi, ali ne daj Bože da malo duže zasednete, a ne naručujete stalno nešto, vrlo će vas grubo oterati.
Dakle ljubaznost ugostitelja : 1+.
Sve u svemu, ne naročito lepo iskustvo, i ostrvo Tasos je MNOGO i lepše i prijatnije, a domaći Grci su tamo mnogo ljubazniji.