Vrste backup-a SQL baze (I) :
* Običan backup (link)
* Copy-only backup – backup that is independent of the sequence of conventional SQL Server backups. Usually, taking a backup changes the database and affects how later backups are restored. However, occasionally, it is useful to take a backup for a special purpose without affecting the overall backup and restore procedures for the database. Copy-only backups serve this purpose (link).
Vrste backup-a SQL baze (II) :
* Full backup – FULL backup UVEK ima ekstenziju .bak
* Differential backup
Šta sve može da se backup-uje :
* DataBase
* (Transakcioni) Log – UVEK ima ekstenziju .trn
Kako može da se uradi backup SQL DB :
* PowerShell
* MS SQL SMS (najjednostavnije) : jednokratno ili kao job (scheduled backup)
Jednokratni backup odabrane baze :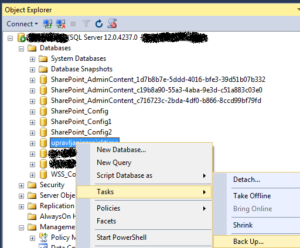 Tu se onda definiše kakav backup hoćemo (full ili differential/DB ili log), gde backup treba da se smesti (lokacija, tj lokalna mašina (onda obavezno kreirati potrebne foldere), URL u mreži, itd), da li će se backup kompresovati ili ne (trebalo bi da se kompresuje). Takođe bi bilo dobro da se jednom urađeni backup verifikuje :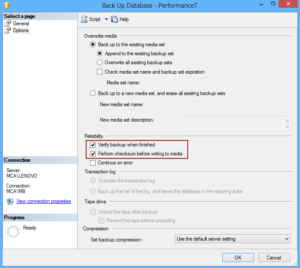 Ako se pravi backup koji treba redovno da se obavlja, on se definiše kao job :



Ili se definiše kroz "Maintenance Plan" (što ja ne radim).
Dobar link koji definiše razne vrste backup-a i daje neke preporuke vezane za iste.