Poređenje fajlova pod WIN 10
Metod 1 : Windiff
Ovo je besplatan programčić koji se samo spusti sa neta, otpakuje (nema instalacije) i koristi.
Ide se na stavku :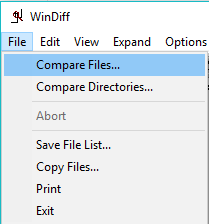 Ako su fajlovi isti ovako izgleda rezultat poređenja :



Ima vrlo šturu povratnu informaciju, i kad su fajlovi isti i kad se razlikuju.
Nema problem sa poređenjem PDF fajlova.
Metod 2 : DiffMerge
Lokacija : link
Daje mnogo opširniji izlaz od predhodnog programa :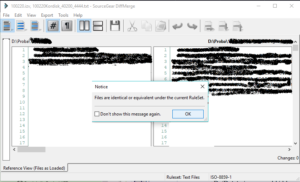 Napomena 1 : za svako poređenje dva nova fajla, program se mora zatvoriti i otvoriti ponovo, NAROČITO ako neki od fajlova imaju isto ime kao predhodno kontrolisan par.
Napomena 2 : ima problem sa poređenjem PDF fajlova.
Dobra strana je i to štop se poziva direktno sa fajla iz Exprorer-a :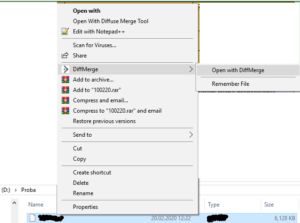 Metod 3 : Diffuse
Lokacija : link
Ovo je program koji se koristi kroz komandnu liniju.
Uputstvo
Compare a Set of Files : $ diffuse file1 file2 file3
Review Local Changes or Fix Merge Conflicts : $ diffuse -m
Compare Specific Revisions : $ diffuse -r rev1 -r rev2 file
Inspect a Revision : $ diffuse -c rev
Kad se pozove iz komandne linije otvara se GUI prozor sa rezultatom.
Dobar link.